Overall Length:

40.5 inch/104 cm

Blade Material:

1060 Carbon Steelel (1095+1060)

Nagasa Length:

27.8 inch/70.5 cm

Saya Material:

High Quality Hard Wood + Genuine Leather

Handle Length:

10.6 inch/27 cm

Handle Material:

Genuine Ray Skin + Hard Wood

Kissaki Shape:

Chu-KISSAKI

Tsuba Material:

Zinc Alloy

Blade Shape:

SHINOGUI-ZUKURI

Sori(curve): 1.8CM

Blade Width(near Habaki): 1.26 inch/3.2 cm

Package weight: 2.0 KG

Blade Width(near Kissaki):

0.91 inch/2.3 cm

Condition: Brand new, Includes certificate and cotton sword bag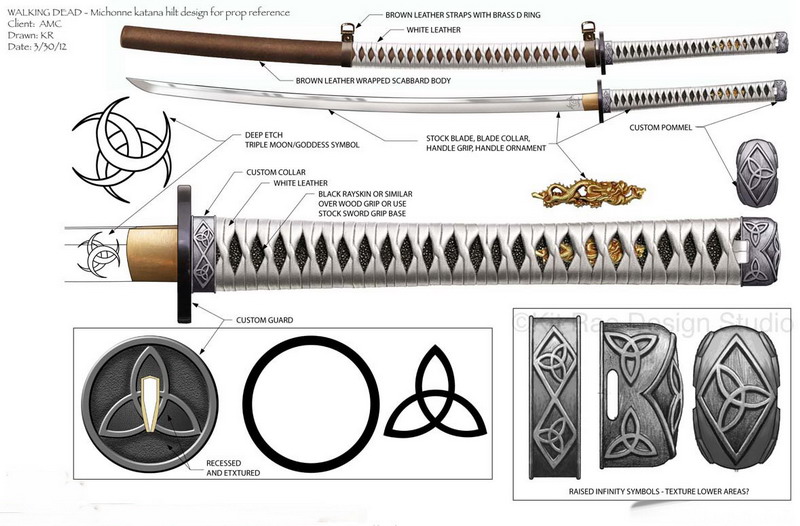 Our factory has used only traditional method for japanese sword making, each blade is individual hand forged, heat treated, tempered and polished by skilled hands creating a true battle ready and perfect sword which is studied not only for its elegant lines and simple beauty, but Also for the technique and skill that went into its construction.
This katana is from Ameircan Drama Walking Dead. This blade is full handmade by professional smith, including hand forged, polished and sharpened. During the whole process, it is made in the traditional Japanese craftsmanship way.
The blade is made of 1060 carbon steel with Maru structure and Chu-Kissaki. It is full tang blade. It greatly enhances the strength of the sword. There is no Bo-hi (groove) added on both sides of the blade. If you want bo-hi to lighten the blade weight and balance the sword, please feel free to tell us through ebay message. The blade is in full-tang which greatly enhances the strength of the whole sword.
The blade is strong enough to cut a thick bamboo tree and sharp enough to slice paper.
This tsuba (guard) of the sword is made of Zinc alloy with two Seppas spacer securing it. The Habaki (blade collar) is of brass composition.
This Tsuka is wooden one wrapped with genuine ray skin, and tied with real silk ITO in the traditional wrap. The Fuchi (sleeve) and Kashira (buttcap) on the tsuka are made of Zinc alloy with matching Menuki on each side as an ornament, two Mekugi (peg) are nailed to secure the Tasng of the sword. (Sword can be disassembled by picking up the two Mekusgi (peg)
The saya is made of hard quality wood with genuine leather. There lether belt is with it.
The leather used on the saya are coffee, if you need, we can change it to Black Leather for you.